Binos
spare parts and maintenance service
Milling · Turning · Welding · Sheet metal forming · Painting · Assembly
The company
BINOS is a global company. With its roots starting in the "BISON Werke" Company, it look back on the experience in building equipment for timber and mineral bonded panel industry of more than 70 years.
Since 1999 BINOS has been developing, planning, designing, manufacturing and assembling machines from individual components to complete production plants under the name "BINOS" in a team counting more than 80 employees.
Since mid 2001, BINOS have been offering services in contract manufacturing for parts and equipment according to customers' drawings or specifications.
Yet attention is focused neither on small parts nor on large amounts: "We start where others have to stop."
BINOS's machine park and technical equipment allows for handling of up to 50 tonne heavy components and to process 8.3 x 1.25 x 2 m big parts (in one clamping- e.g. base frames).
"Our drive is our motivation"
Every customer and every project are attended to by individually. With tailor-made ideas created by people who have been working in this area for many years.
Personality, individuality and creative freedom stay in the foreground of work. This is the only way to offer you perfect services, on which you can rely also in the future...
Capacities
Due to our mechanical equipment, experience and flexibility of our staff we are able to promptly process orders from third companies in addition to our internal orders.
Our specialization lies in building medium-size production lines and mechanical engineering.
We offer you following services and specialists:
cutting processing (milling, turning, drilling)

burning and welding

sheet metal forming and processing

painting

pipeline construction

switch cabinet construction

complete mounting including cabling, programming and start-up
Milling - Drilling - Grooving
Zayer drilling and milling machine with CNC

Toss drilling machine with CNC

Drilling machine with CNC

Conventional radial drilling machine

Deep drilling machine for pipes
Turning
Conventional machines

Drilling machine with CNC

Drilling machine with CNC

Carousel
Sheet metal forming
Cutting

Trimming press with control

Conventional trimming machine

Eccentric press
Welding
MIG, MAG and WIG welding

Bolt welding machine

Profile bending machine
Painting
Pre-treatment and painting

One and two component lacquers

Two painting areas with exhaustion and water separation in a separate painting hall
Assembly
Mechanical assembly

Electrical assembly

Production hall
Upper part of the dosing bin
Side walls of the press (each 15 t)
Switching flaps (material distribution)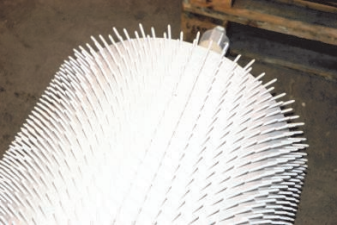 Preparation for painting (degreasing)
Assembly of the sanding machine
Lower part of the sanding machine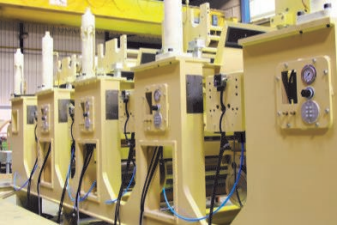 Start- up of the sanding machine